If you are a baton twirler, twirling coach, contest director, corp director or twirling parent, we want to hear your twirling news! Send us your photos, short description or longer write-up. Write to news@twirlzone.com today!
11/06/2012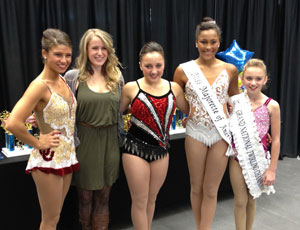 There was record attendance at this year's Mid-America Celebration of Twirling Contest and Clinic. The event was themed "Reach for the Stars" and many twirling stars were present for this 2-day event including Megan McGeary, Chelsea Russell, Savannah Miller, Simone Esters and Grace Wood.
Read more about this exciting event!
read more