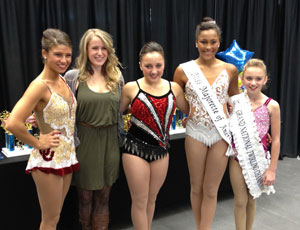 There was record attendance at this year's Mid-America Celebration of Twirling Contest and Clinic. The event was themed "Reach for the Stars" and many twirling stars were present for this 2-day event including:
Megan McGeary - 2012 College Miss Majorette of America
Chelsea Russell - 2012 Senior National Majorette Champion
Savannah Miller - 2012 Junior National Majorette Champion
Simone Esters - 2012 Pre-Teen Miss Majorette of America & Pre-Teen National Majorette Champion
Grace Wood - 2012 Little Big One Juvenille Winner
The day was filled with exciting individual and team competition from Novice to Super Advanced twirlers. Twirling fans were entertained by guest performances throughout the day. The event was held in a new arena that allowed twirlers to execute advanced tricks and gave the contest a new professional feel.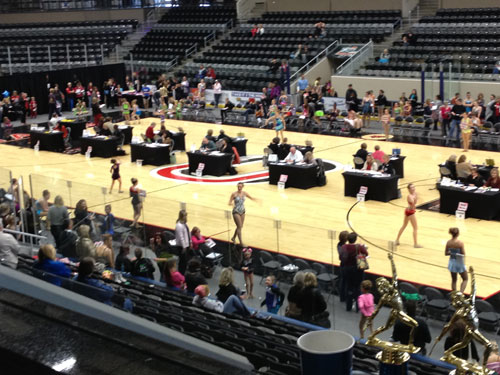 Director Sue Foehlinger was thrilled with the attendance, judging staff and twirling royalty present at this year's event. Many twirlers participated in the clinic held on day two, learning new tricks from the same staff that judged the previous day. The Reach for the Stars clinic event ended with a performance by all attendees.