MIDDLE TENNESSEE STATE UNIVERSITY, SALINE HIGH SCHOOL TWIRLERS ARE U.S. CHAMPIONS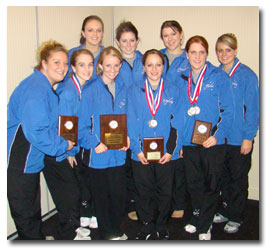 Oxford, IN – Middle Tennessee State University and Saline High School (MI) took top honors in the Fourth U.S. Collegiate and High School Twirling Championships held Feb. 2 at Benton Central High School in Oxford. The exciting day of competition featured twirlers from high schools, colleges and universities in a dozen states from Connecticut to Texas.

Middle Tennessee State won the Overall Collegiate Championship by placing first in the Collegiate Line event, second in the Collegiate Group event and third in Collegiate Team event. Erica Seredni of the University of Virginia dominated the individual Collegiate events, placing first in Collegiate Feature, Freestyle, One Baton and Two Baton.

Michigan's Saline High School won the High School Team and Pairs events, and Saline's Cindy Bruckner took first in the individual High School One and Two Baton events. (See complete results below.)

The Fourth Annual U.S. Collegiate and High School Twirling Championships were hosted by the Purdue University Twirling Squad and supported by the National Coalition for the Advancement of Baton Twirling (NCABT), which is working to establish baton twirling as a scholastic sport at the high school and collegiate level.


The athletes who competed this weekend perform for thousands of fans at high school and collegiate sporting events across the country. They are both athletes and artists, demonstrating many of the same skills and qualities as competitive runners, gymnasts, dancers and figure skaters. Those skills include endurance, speed, flexibility, lightning reflexes and excellent eye-hand coordination.

For more information about baton twirling and the U.S. Collegiate and High School Twirling Competition, visit www.ncabt.com or contact Anna Osborn at 303-349-7267 or Sandi Wiemers at 785-632-0917.

******************************************

TOP 10 OVERALL IN COLLEGIATE TEAMS

1. Middle Tennessee State University
2. University of Virginia
3. Texas Christian University
4. University of Connecticut
5. Purdue University
6. University of Louisville
7. Millikin University
8. University of Kentucky
9. University of Cincinnati
10. Marshall University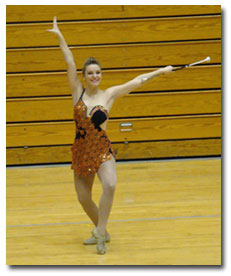 Collegiate Individual Feature Division
1. Erica Seredni - University of Virginia
2. Tierney Brown – Purdue University
3. Alyssa Kane – University of Connecticut


Collegiate Individual Line Member Division
1. Rachael Bazzell - Purdue University
2. Kimberly Senters – Middle Tennessee State University
3. Caitlin Midkiff – University of Kentucky


Collegiate Freestyle Division
1. Erica Seredni – University of Virginia
2. Alyssa Kane – University of Connecticut
3. Tierney Brown – Purdue University


Collegiate One Baton Division
1. Erica Seredni - University of Virginia
2. Alyssa Kane – University of Connecticut
3. Sawyer Powers - Texas Christian University


Collegiate Two Baton Division
1. Erica Seredni - University of Virginia
2. Alyse Gillman – Middle Tennessee State University
3. Sawyer Powers-Texas Christian University


Collegiate Three Baton Division
1. Sawyer Powers-Texas Christian University
2. Samantha Kolasa – University of Louisville
3. Erica Seredni - University of Virginia


Collegiate Pairs Division
1. Galyon/Senters – Middle Tennessee State University
2. VonDielingen/VonDielingen – Purdue University


Collegiate Line Division
1. Middle Tennessee State University
2. Purdue University
3. University of Kentucky


Collegiate Group Division
1. Purdue University
2. Middle Tennessee State University
3. University of Kentucky


Collegiate Team Division
1. Purdue University
2. Marshall University
3. Middle Tennessee State University


High School Freestyle Division
1. Carly Bender - Highland Park HS – TX
2. Alexis Abraham – Eastwood HS – OH
3. Kristen Clay - Davidson Academy – TN


High School One Baton Division
1. Cindy Bruckner - Saline H.S. – MI
2. Stacey Girbach - Saline H.S - MI
3. Carly Bender - Highland Park H.S. – TX


High School Two Baton Division
1. Cindy Bruckner - Saline H.S. – MI
2. Stacey Girbach - Saline H.S. – MI
3. Mary Ciotta - Saline H.S. – MI


High School Three Baton Division
1. Alexis Abraham – Eastwood High School - OH
2. Stacey Girbach - Saline High School – MI
3. Mary Ciotta - Saline High School – MI


High School Pairs Division
1. Bruckner/Girbach - Saline HS - MI
2. Callaway/Clay- Davidson Academy - TN
3. Bumgarner/Lawrence Jonathan Alder HS- OH


High School Team Division
1. Saline High School Twirlers - MI