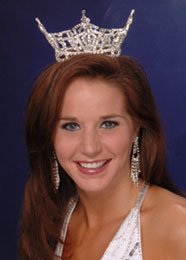 Diana Reed, NBTA twirler and former Hawkeye Golden Girl for the University of Iowa, was crowned the 2007 Miss Iowa and will be heading to Las Vegas, Nevada this month to compete for the 2008 Miss America crown LIVE from the Planet Hollywood Hotel and Casino!

DIANA REED, a native of Norwalk, Iowa, recently graduated at the top of her class from the University of Iowa with a double degree in Business Management and Performing Arts Entrepreneurship. Diana attended Iowa on full athletic scholarship, entertaining an audience of 70,000 as the Hawkeye Golden Girl (feature baton twirler). She has won numerous state, regional and national titles in baton and made her Broadway dance debut with Christina Applegate in the musical Sweet Charity. Diana has also been featured in Fortune Small Business Magazine for creating her own business in Iowa City called Diana's Golden Twirlers, an organization that teaches children of all ages the art of baton.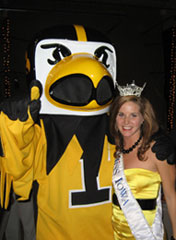 In June, Diana was crowned Miss Iowa 2007, the Official Hostess of the State of Iowa and will represent Iowa in the 2008 Miss America Pageant on January 26th. She will spend her year of service traveling the state and promoting her personal platform of Character Education: Building Futures by Building Kids.

For the first time in the 87 year history of Miss America, everyone in America will have the opportunity to select one of the finalists, along with the 15 finalists selected by the judges. This year, a surprise 16th pageant finalist will be announced during the live finale as the result of MISS AMERICA: AMERICA'S CHOICE, an online competition that allows viewers to vote for their favorite Miss America contestant. Fans can vote by visiting the TLC website.

As the reigning Miss Iowa, Diana is very excited about this opportunity to promote baton twirling, but needs YOUR help to become the next Miss America!! To help Diana get in the top 15 at Miss America, please go to the following address and vote for Miss Iowa!! http://tlc.discovery.com/tv/miss-america/contestants.html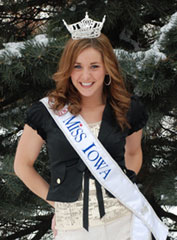 Once you get to the main website, click on the state of IOWA on the map. Next to Diana's picture it will say Vote Now! It only takes a couple seconds of your time and is pretty easy. Also, you can vote ONCE EVERY DAY between now and January 26th, so vote as often as you can. By getting the support of everyone in the twirling world, Diana will be one step closer to twirling on national television.

Diana has served as a great representative for baton twirling and mentor to twirlers all around the country; this is great opportunity to positively promote the sport of baton twirling across the nation. Please pass this information on to everyone you know to get as many votes as possible in the days leading up to the Miss America competition, which is LIVE on January 26th (The Learning Channel). Also, don't forget to tune in to the Miss America Reality Check TV show on TLC – Friday nights in January at 9:00 pm (CT) to see Diana live and compete against the other 51 contestants in the new Miss America reality show. VOTE for MISS IOWA DIANA REED!!!

To check out pictures of Diana's year and follow her journey to Miss America, check out her website at www.missiowa.com.