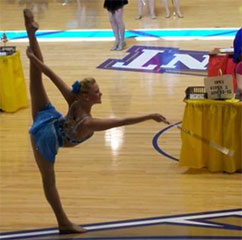 Meaghan Place has been crowned the 2007 Intermediate Jr. Miss Majorette of America at the National Baton Twirling Association Championships at Notre Dame University on July 18, 2007. Meaghan competed against girls from all over the United States. She took first place in Solo and Strut and placed third in Best Appearing to capture the win.
Meaghan is from Frederick, Maryland and has been twirling with The Dynamics from Laurel, Maryland under Linda Alford since 2004. Meaghan started twirling ten years ago with the Shooting Starz under the direction of Sheri Rice and moved to the Germantown Gems under the direction of Cheryl Crosby in 2001. She attends Frederick High School and is a Feature Twirler of the band.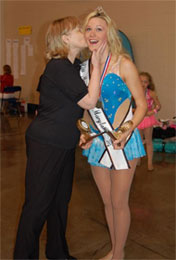 Meaghan's great work ethic, dedication and the love of the sport has been proven with her wins of "Beginner Jr. Miss Majorette of the Mid-Atlantic" in 2005 and 2006, Beginner Jr. Miss Majorette of America in 2006, "Beginner Jr. Miss Twirl Mania" 2006 and "Intermediate Jr. Miss Majorette of Maryland" in 2007.
Meaghan is now working hard with her coach Christy Alford Taylor and looking forward to Twirl Mania 2008 at the Disney Wide World of Sports and working to qualify for the NBTA Worlds Competition in Belgium in 2009.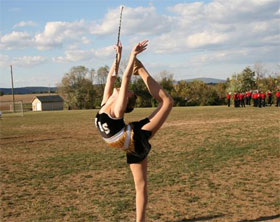 Information provided by Toni Place.