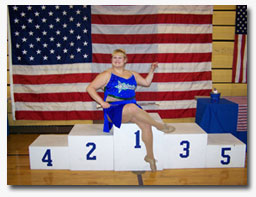 ICAP Congratulates AM-CC's Feature Twirler, the "Island Girl" ICAP, Island Corp Auxiliary Performers, the colorguard and baton twirling Rec Sports club at Texas AM University-Corpus Christi, in Corpus Christi, Texas would like to tell you about something extraordinary that has happened over this past July! TAMU-CC's very own "Island Girl", Jennifer Kotzur, has had the opportunity to represent our great Island University and the Lone Star State at two very prestigious events; the 2007 United States Twirling Association National Twirling Championships and the 2007 American Twirling Federation National Twirling Championships!

At the USTA Nationals, held in Rochester, MN, July 9th-16th, Jennifer placed 6th (out of 56 contestants) in the Sr. Grand National Strut Division, winning a $50 Savings Bond, 2nd in FOF Strut, 3rd in Sr. National Dance Twirl, 4th in Sr. Presentation, 5th in National Solo, 6th in National 2-Baton and 3-Baton and 12th in National Open Freestyle! Furthermore, Jennifer will have the opportunity to represent TAMU-CC at the 2008 NCAA/NCABT National Championships to be held at Purdue University in West Lafayette, IN on Feb, 2008!

Saturday, July 21, 2007, Jennifer competed in the ATF National Championships in Austin, Texas. We are very pleased to announce to you that our "Island Girl" is the 2007 Sr. National 2-Baton, Presentation, and Parade Strut National Champion!!! At this competition, she also placed 2nd in Sr. Dance Twirl and Strut, 4th in Sr. National Solo, and 5th in the Miss ATF of Baton Pageant! Jennifer could not be more overjoyed, proud, and thrilled to continue the tradition, pride, and spirit of The Island University by her achievement this past summer! However, it wouldn't have been possible what out all of your thoughts, prayers, and support!


ICAP is very honored to have our President/Founder and "Island Girl," constantly continuing to keep the Islander Spirit alive! WOW! During the 2006-2007 school year, many great and exciting things have been happening here on the Island, from becoming the Southland Conference Champions in both Men's Basketball and Men's Tennis to the ground breaking of our new fitness and wellness center, and NOW the home of a National Twirling Champion, who many may not know was crowned Miss Teen Plus USA and Miss Teen Plus Talent USA 2007-2008. What else could our school ask for!

ICAP wishes the best of luck and many blessings, not only the members of the organization and all of AM-CC but, for a twirlers and colorguard members across the globe. This past year has been nothing but complete excitement and could not have been such a success without the love and support of our AM-CC Rec Sports and Islander Family and Friends, as well as the many new supporters we have recieved over the 2006-2007 year. We want to thank all of you from the bottoms of our hearts! Go Islanders! Remember, "Reach for the Stars and Achieve!"

Story & photos provided by Jennifer Kotzur