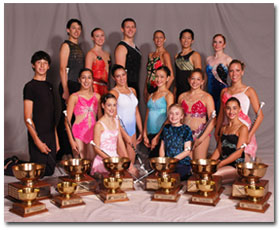 Fun, friends and fabulous performances marked the 2007 U.S. National Baton Twirling Championships, sponsored by the United States Twirling Association (USTA). More than 600 athletes from 22 states participated in the Championships, which were held July 9-12 at the beautiful Mayo Civic Center in Rochester, MN.
Highlights of the Championships included the exciting individual and group Finals competitions, as well as command performances by Team USA, the athletes who are representing the U.S. in the 28th World Baton Twirling Championships, July 28-Aug. 6 in Hamilton, Ontario, Canada.
The Championships received extensive media coverage by the Rochester Post-Bulletin, the Minneapolis Star-Tribune, the LaCrosse Tribune, and television stations KARE, KAAL, KIMT, and KTTC.

Athletes and their families are already looking forward to the 2008 U.S. National Championships, to be held July 12-19, 2008 in Daytona Beach, FL, in conjunction with USTA's 50th Anniversary Celebration. Be part of the excitement! For more information, visit www.ustwirling.com.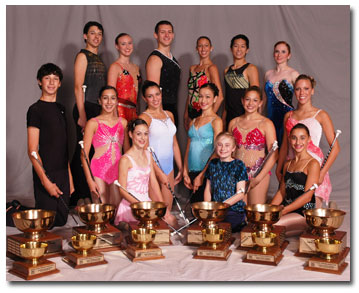 2007 U.S. National Grand Champions
Front row, left to right:
Jamie Hogan - Juvenile Strut Grand Champion
Coleton Marshall - Juvenile Men's Solo Grand Champion
Francesca Daizovi - Juvenile Solo, 2 Baton and 3 Baton Grand Champion
(Not pictured: Gina Kilner - Juvenile Dance Twirl Grand Champion)
Middle row, left to right:
Jack Giordano - Jr. Men's Solo Grand Champion
Jaqueline Ramirez - Jr. Solo Grand Champion
Cassie Zilavy - Jr. 2 Baton Grand Champion
Kristine Anderson - Jr. Dance Twirl Grand Champion
Catherine Ramirez - Jr. 3 Baton Grand Champion
Samantha Chisholm - Jr. Strut Grand Champion
Back row, left to right:
Drew Abramson - Sr. Men's Solo Grand Champion
Danielle Cobb - Sr. Solo, Strut, Dance Twirl, 2 Baton and 3 Baton Grand Champion
Michael Harris - Adult Men's Solo Grand Champion
Jennifer Marcus - Adult Solo, 2 Baton and 3 Baton Grand Champion
Jason Lee - Adult Dance Twirl Grand Champion
Jenny Hannah - Adult Strut Grand Champion
Article and photos provided by USTA
Anna Osborn
USTA PR