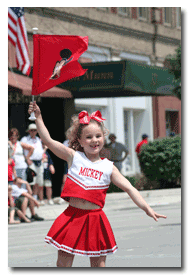 Li'l Miss Iowa has some pretty lofty goals. And it wouldn't be surprising if the 7-year-old baton twirler attains them. Michaela Rader was crowned Li'l Miss Iowa 2006 over the summer, adding to honors and awards she has been receiving for many years. The title will also add to her busy schedule, but Michaela wouldn't have it any other way.
Known in the area for her talents in baton twirling, Michaela entered the Li'l Miss Jordan Creek contest a year ago. She won the competition and then took runner-up honors at the state competition. That experience made her more determined to take the crown in 2006.
This year she was crowned Li'l Miss Capital City, before earning the state title of Li'l Miss Iowa in a three-day event in Davenport. The competition consists of an interview (30 percent), talent (40 percent), on stage question (10 percent), and modeling casual wear (10 percent) and a party dress (10 percent).
"I was really surprised when I won. There were a lot of good girls in the competition," Michaela said. "I am very excited. I had fun and made a lot of new friends."
The talent portion was right up Michaela's alley. The second-grader is an accomplished twirler with numerous awards. She began twirling at age 3, taking lessons from Allison Arnold-Kempers, a former Iowa State University feature twirler. After Allison graduated and moved to Indiana, Michaela began working with Julie Canterbury-Rietz of Des Moines, a former University of Iowa Golden Girl and Miss College Majorette of America. It has also been an honor for Michaela to have a few lessons with baton twirling legends Jan Stivers of Iowa and Douglas Daniels of Missouri. This summer at AYOP she twirled in the 0-6 age division and placed third in show twirl, first in beginner two-baton, and was first runner-up in the intermediate pageant. This fall she competed at the Iowa state competition in the 7-9 age division and took home the intermediate state solo, beginner two-baton, and beginner show twirl first place trophies.
The winner of the Li'l Miss Iowa contest can select what appearances she wants to do during the year. Michaela has participated in community service projects such as volunteering at the National Special Olympics, serving Meals on Wheels, and assisting at the Celebration of Families. She has been a special guest at a tea party hosted by Iowa's First Lady Christie Vilsack, sang the national anthem at the Iowa Classic horserace, judged tea sandwiches and desserts at Iowa State Fair, twirled her batons at a Des Moines Menace game, and performed her many talents at the Festival of Trees in Davenport and the Great Cookie Walk in West Des Moines. All of the appearances and community service projects are wrapped around school, baton lessons, tumbling and trampoline team practices, and Irish dance classes.
Earning the Li'l Miss Iowa title meant receiving a $500 savings bond, modeling classes and a photo shoot, a one-year modeling contract, and many other prizes. Since Michaela won the title at a young age (7 in a 6-9 age division), she won't be eligible to compete in the Miss Iowa Youth program for a few years, but she plans to compete in the Junior Miss competition when she is old enough.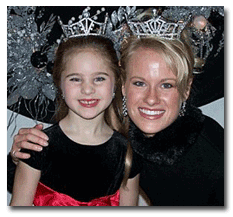 "I think I will probably compete in all the Miss Iowa contests. I like doing competitions," Michaela said. She has also set a few other goals to try and achieve over the next few years.
"I'd like to twirl with a band, with the South Hamilton band (Michaela's school) and at Iowa State University or maybe at the University of Hawaii. I also want to be an Iowa State Fair Bill Riley Talent Search Champion. I was named a Star of Tomorrow at the Iowa State Fair when I was four-years-old, but really want to be named a champion," Michaela said. "I also want to be a baton judge."
But until then, she is content on expanding her knowledge in her favorite subjects, math and science, and advancing her baton twirling skills in order to reach some of those lofty goals.
Article by Julie Schroeder