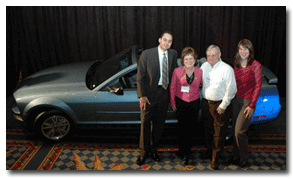 Los Angeles- Jan Stivers of the Norwalk, Grimes & Carlisle Superstars Baton, Dance & Tumbling Center was named winner in an 18 Month business improvement contest. The national contest encourages studio owners to implement new business ideas and improve the operations, revenue and customer experience that their studio delivers to the community.
Jan Stivers, or 'Ms. Jan' as she is known by her students implemented 121 new strategies in an 18month period and was voted Americas Most improved studio by a group of 350 other studio owners who saw her 10 minute "before and after" presentation on stage in Los Angeles.
The most improved studio contest is the brainchild of Sam Beckford, who owns 3 very successful studios in Vancouver, Canada. Mr. Beckford has been conducting seminars and coaching to studio owners for the past 5 years and is the author of 3 books on small business improvement. "I'm very proud of what Jan has done." states Mr. Beckford "Jan has shown true discipline and perseverance even in tough times and has demonstrated to her students and business owners nationwide that if you focus on your goals and work hard you will be successful."
Mrs. Stivers had to overcome obstacles during the 18 month period that made success seem unlikely. A house fire destroyed personal and business items 2 years ago and other personal family tragedies occurred that made concentrating on business very difficult.
Mr. Beckford believes Jan's students and her community are lucky to have her as a role model. "Jan's example is not only teaching kids about being successful dancers on stage, it is teaching them about success in life too. Every young person should have a Jan Stivers in their life."
The car was purchased by Mr. Beckford locally at Charles Gabus Ford and delivered to Mrs. Stivers.
The Carlisle Superstars Baton, Dance & Tumbling Center is located at 85 School Street in Carlisle Call 515-989-0558 for information. The Norwalk Superstars Baton, Dance & Tumbling Center is located at 360 Wright Rd, Norwalk 515-981-4298, Grimes Superstars 270 SW 1st St. Grimes, 515-986-9340.
For further details please contact Sam Beckford at 1-800-937-3157.