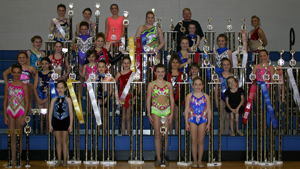 "Twirltacular Extravaganza" Grand Championships were held in Memphis, TN on March 15, 2008. Over 147 competitive twirlers and dancers competed in team and individuals events. More then 6 states of competitors were present at the event and fun was had by all who attended.

Twirltacular Extravaganza has been holding twirling and dance events since it's inception in 1990 and has grown from only 14 competitors to over 200 competitors at some locations. Twirltacular was the brainchild of Mary Molder to have twirlers compete in the same arena regardless of organization affiliation. Having been a competitive twirler herself in the 1980's, she wanted to hold an event were all twirlers would feel welcome and experience different organizational ways of twirling without limiting all twirlers to one set of rules and sanction. Events are being planned in Ohio and California this year due to the demand of northern twirlers wanting to attend but cannot afford transportation to some of the areas already scheduled with the event.



Mrs. Molder states "I wanted to host an event where all twirlers could come and compete under the same roof while enjoying the sport I have loved so much over the years and not worry about organizational rules or affiliations." Twirling also allows those serious about the sport to obtain a full college scholarship with their talents. Mrs. Molder obtained a full scholarship for college during her twirling career and has had dozens of students do the same.



Visit the website for contest dates and locations. www.twirltacular.com

Article and photos provided by: Mary Molder