Members of Applause of Bel Air Baton Twirling Corps competed in July at AYOP (America's Youth on Parade) Baton Twirling National Competition in South Bend, Indiana. The Senior Large Beginner Dance Twirl team won first place to become the National Champions in their division.
The team consists of Melanie Baker, Michelle Cvach, Ashlee Gilliam, Emily Hogan, Maria Kopalchik, Kat Murphy, Rachel Occhionero, Caitlin Ortolani, Allison Reichart, and Erin Rice.
In addition, the Junior Small Beginner A Dance Twirl team placed third, and the Junior Small Beginner B Dance Twirl team placed fourth. The Juvenile Large and Small Dance Twirl teams both placed eighth, and the Tiny Tot Dance Twirl team placed fifth.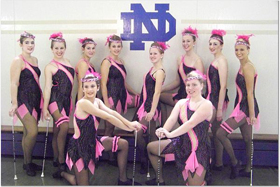 Applause had several members win first place in individual events. Emily Hogan placed first in Show Twirl, Maria Kopalchik placed first in Novice 13 Two-Baton, Kaitlyn Opperhauser placed first in Novice 11 Two-Baton, and Janie Seitz placed first in Beginner 9, Two-Baton. Most of our twirlers placed in the top ten in their respective events.
The corps also competed in the Maryland State Championships in May, bringing home wins in the Beginner Tiny Tot, Beginner Juvenile, Beginner Junior, Beginner Senior, and Primary Pom Pon divisions. For more information about Applause, visit the website www.belairrec.org and scroll down to find the Applause link.
Article and photo provided by: Leslie Ortolani