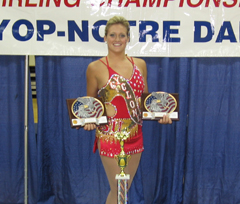 AMES, Iowa - While many Iowa State student-athletes are in the midst of their summer training regimens, sophomore Emily Bright is hard at work competing.
Two weeks ago (week of July 21st, 2008), the Norwalk, Iowa native participated in a multitude of events at the 2008 Baton Nationals held at Notre Dame in South Bend, Ind. Bright garnered top-10 finishes in almost every event in which she competed, capturing first place in Collegiate Field Performance.
"Capturing first means the world to me," Bright said. "Just being able to show other schools who ISU is was awesome."
The event was scored by three different judges and was based on criterion such as coordination, fluidity, gracefulness, and overall appeal. The theme to the event was "you are in the spotlight leading the band down the field."Bright was given 30 seconds to perform for the judges and beat out 28 advanced college twirlers for the number No.1 spot.
"I think it's fantastic," Cyclone marching band director Matt Smith said. "Iowa State has a proud tradition of twirlers, and it's a true testament to Emily's abilities."
Bright also took seventh place in the college solo event in which each twirler picks a song from their respective marching band and performs an original piece to the music. "This was one of my favorite events at nationals because I got to represent Iowa State," said Bright. As with many athletes the road to success began a long time ago.
"I was four years old when I started, my older sister was twirling at the time and I wanted to do it as well," Bright said. Bright says, to become a successful twirler one must possess dedication and drive, as twirling is a year round sport and does not have seasons. "You have to have that drive to be the best, the drive to work hard and achieve your goals," Bright said.
During football games Bright is prominently featured in the half-time show, moving freely amongst the marching band, performing complex routines in front of 50,000 watchful fans. "Honestly, the more fans the better," said Bright. "Being able to go out there during pre-game and halftime and putting on a performance for the crowd is fantastic, it's what I love to do."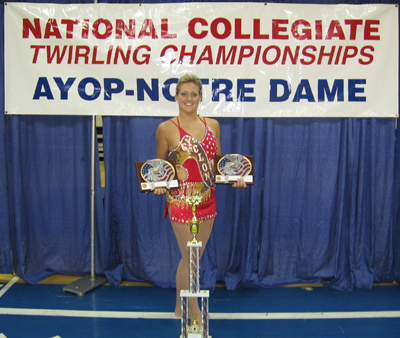 How does one cope with pre-game nerves? "I will admit, the first game I cannot even remember because I was so nervous," Bright said. "However there is nothing better than twirling your heart out on the football field with the band."
Bright's enthusiastic performances have not gone unnoticed by those on the field. "It is not an easy thing to do what she does in front of 50,000 fans and likewise communicate with them through her poise and presence" said Smith. "She handles it like it is second-nature."
So what is the best part about twirling? "Twirling itself is the best part," Bright said. "I've wanted to be a college twirler for as long as I can remember, so having my dream come true is wonderful."
Photo provided by: Chris Bright
Story Source: http://www.cyclones.com