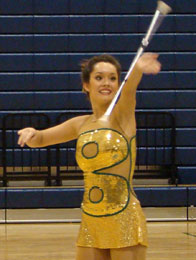 MIDDLE TENNESSEE STATE REPEATS AS COLLEGIATE CHAMPS

Corpus Christi, TX – Middle Tennessee State University successfully defended its title as Collegiate Team Champion at the Fifth U.S. Intercollegiate and National High School Baton Twirling Championships on Sat., Feb. 28, at Texas A & M University – Corpus Christi. The exciting day of competition featured twirlers from high schools, colleges and universities from California to Florida.
Middle Tennessee State twirlers Kimberly Sentor and Brittany Galyon won the Collegiate Pairs Championship, while Whitney Wylie and Hannah Dziuk from Woodlands College Park High School in The Woodlands, TX, won the High School Pairs Championship.

Alexa Bourdage, feature twirler at the University of Texas – Austin, won the Collegiate Solo, Freestyle and Fight Song Championships, while DaNae Couch of Baylor University won the Collegiate Two Baton event and Alyson Weber of San Diego State University won the Collegiate Three Baton event.

Lauren Basile from Taft High School in San Antonio, TX won the High School Solo and Three Baton Championships, while Shaina Melnick from Mountain Vista High School in Highlands Ranch, CO won the High School Two Baton Championship. Torri Cicchirillo from Miami Palmetto High School in Miami, FL won the High School Freestyle Championship.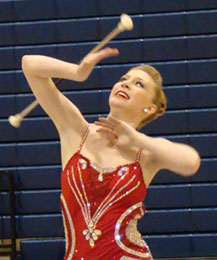 The Fifth U.S. Intercollegiate and National High School Baton Twirling Championships were supported by the Island Corps Auxiliary Performers + Texas A & M University – Corpus Christi and sponsored by the National Coalition for the Advancement of Baton Twirling (NCABT), which is working to establish baton twirling as a scholastic sport at the high school and collegiate level.

The athletes who took part in the competition perform for thousands of fans at high school and collegiate sporting events across the country. They are both athletes and artists, demonstrating many of the same skills and qualities as competitive runners, gymnasts, dancers and figure skaters. Those skills include endurance, speed, flexibility, lightning reflexes and excellent eye-hand coordination.


For more information about baton twirling and the U.S. Collegiate and High School Twirling Competition, visit www.ncabt.com.


For more information, contact:
Sandi Wiemers, 785-317-3512
Anna Osborn, 303-349-7267