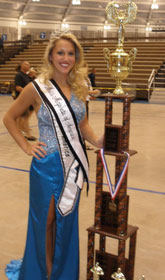 MerrieBeth Cox did not put away her batons after winning the bronze medal in Belgium for her solo. Instead she continued her 5:30am practices with hopes of performing well at AYOP in July.
Her hard work paid off when she won the Teenage Miss Majorette of America 2009 title by placing first in strut and modeling and third in solo. MerrieBeth who will be beginning her second year as Purdue's Golden Girl was also excited to win the collegiate field routine and the WOW award for the second year in row.
The WOW award is given to the collegiate twirler that is the most entertaining twirler to watch. MerrieBeth is looking forward to entertaining football fans this fall at Purdue.