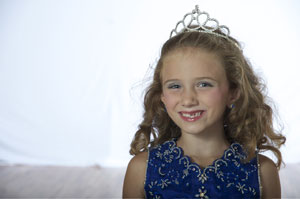 When then 5-year-old Grace Wood, left AYOP 2008 as the 0-6 National Show Twirl Champion and Advanced 0-6 2-Baton Co-Champion, she told her mom, "Next year, I want to be Little Miss Majorette of America!" So began a year of hard work and dedication for a young twirler. Little did her mom and coaches, Dawn Reed and Diana Reed, know that Grace would really accomplish that lofty goal!

AYOP is Grace's favorite week of the year. She loves the atmosphere at AYOP where everyone else is as passionate about twirling as she is. AYOP 2009 was no exception. In addition to winning Little Miss Majorette of America by placing first in modeling, first in solo and second in strut, Grace won the 0-6 National Show Twirl Championship for the 2nd year in a row, and the Advanced 0-6 World Open Solo. She also had the opportunity to interact with her twirling friends and role models from around the country.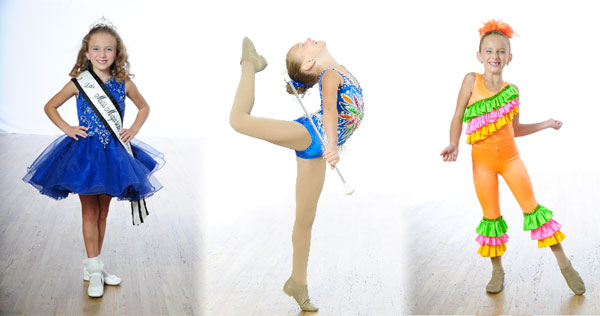 Grace typically practices baton 20-25 hours per week during the school year in addition to tap, ballet, jazz, and tumbling lessons. In the summer, she dedicates the majority of every day to practicing for nationals, but she also plays summer softball in the evenings. Grace is a busy second grader who enjoys reading and writing most at school. During her down time at home, Grace relaxes by reading, crocheting, and exploring the woods at her Grandparents' houses. She also shoots her bow and arrow with her dad, Tom, and little sister, Maggie. She says getting a bullseye with her bow and arrow is like finally catching a hard baton trick!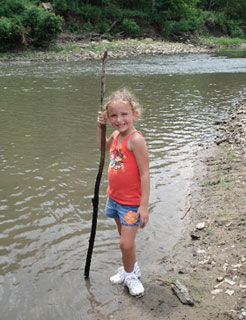 Grace thinks the best part of being Little Miss Majorette of America will be handing out awards to other twirlers and getting to be an advocate for the sport of baton twirling. She already performs show twirls in talent shows all over the state of Iowa in an attempt to educate other kids about twirling. She loves to show off what the sport really is about! Show twirl is definitely her favorite event because it combines the best of all the other events, has a theme, and really shows her personality. Performing her show twirl routines for large audiences is her favorite part of twirling.

So, what is next for this twirler? Ultimately, Grace would like to be a featured twirler for a major university. But for right now, Grace is already talking about AYOP 2010! She can't wait to spend a week with her baton friends and introduce her little sister, Maggie, to the amazing week that is AYOP!

Photos and story provided by Denise Wood