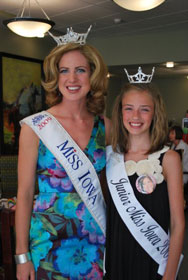 Emma Kate Wichman, twelve, excitedly captured the title of Junior Miss Iowa in June. She competed against other girls, ages 10-12, from across the State, and won after participating in the following: a six-minute interview, casual wear, party dress, talent, and on-stage question. Her title, Jr. Miss Iowa, is part of the Miss America Scholarship program.

The sixth-grader performed a baton show-twirl for the talent portion of the competition, which was a terrific way to showcase her dedication to baton twirling, a sport she's been competing in since she was in kindergarten. Over the years, she has acquired many State and Regional awards and captured numerous top ten finishes at A.Y.O.P. Most recently, she earned medals at the National AAU Junior Olympics, with a Gold Medal finish for her two-baton routine. She also loves performing with her team, TNT Dynamite, who also has seen much success in the competitive circuit. Her experiences in baton competitions and performances definitely helped her to prepare and be successful in winning the title. As reigning Jr. Miss Iowa, she has treasured consistently performing at community and state-wide functions.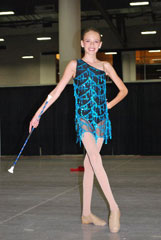 Emma Kate's year as an ambassador for the State of Iowa includes highlighting her community service project, "Blankets for Babies: Raising Awareness of Premature Birth." Her initial work raising awareness of premature birth began three years ago after her brother, Rhett, was born early and endured a lengthy hospital stay. "The nurses were nice to my family, and gave us a baby blanket to put in his bed. It made us feel like others cared about my brother, even though he was sick," Emma states about her resolution to support this cause. She decided then she wanted to make blankets for families with babies in the NICU (Neo-natal Intensive Care Unit). Now, with her title as Jr. Miss Iowa, she is taking the opportunity to reach out to all NICU's across the state. Her goal is not only to get over 100 blankets to families, but to visit each NICU in the State to spread the word about the importance of the March of Dimes and raising awareness of premature birth. She sees the real importance of continuing to make others aware of the significance of carrying a baby to full-term and delivering a healthy baby. Since winning the title, she has volunteered for March of Dimes, made celebrity appearances at March of Dimes events, and continues to raise money for the organization. To learn more about her community service, please visit her web site at www.iowablanketsforbabies.org.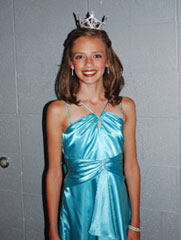 While she spends a lot of time "working" as Jr. Miss Iowa, she has enjoyed many "fun" activities as well. Emma Kate has made appearances at the Iowa State Fair, a University of Iowa football game, attended local "festivals" around the State, met with Girl Scout Troops, and rode in many parades across the state. She also continues with dancing classes and basketball, with her basketball team finishing this season undefeated.

"Being Jr. Miss Iowa has been an amazing experience, and I have learned many life lessons during the past months. Performing and speaking to crowds over and over again has helped me gain confidence," says Emma Kate. She enjoys being a role model and inspiration for younger twirlers and girls at her school.

Emma Kate is a member of the team Twirl-N-Talent Dynamite. She is coached by Melissa Lankston, Candy Kimball, and AnnNita McDonald.